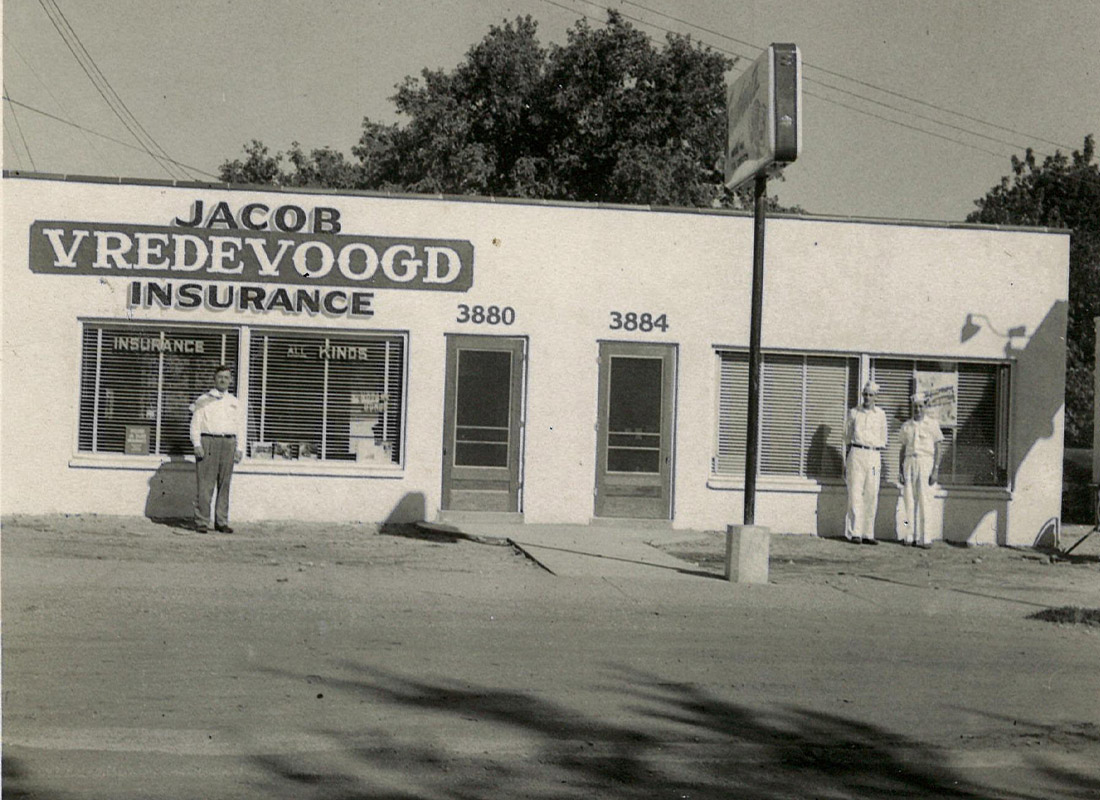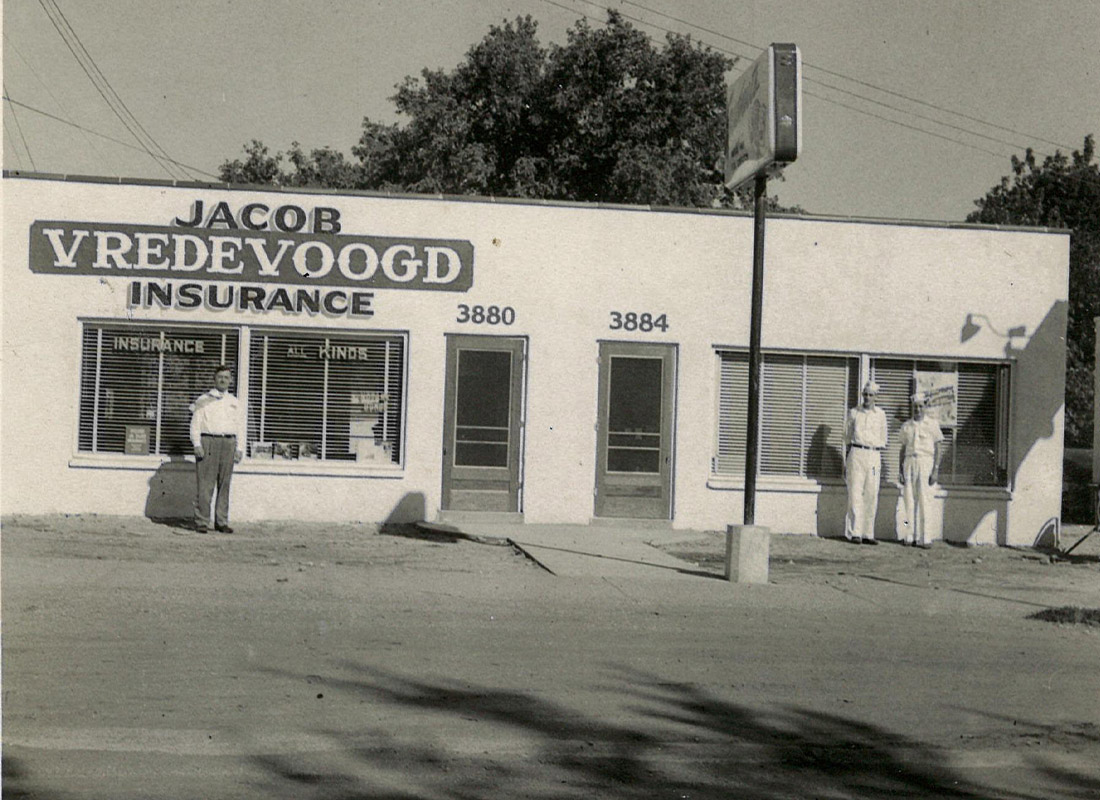 One vision. Four generations strong.
At Vredevoogd-Brummel Insurance Agency, our vision revolves around becoming a trailblazer in client experience, fostering a thriving team, and responsibly managing our resources.
Vredevoogd-Brummel Insurance Agency
Welcome to Vredevoogd-Brummel Insurance Agency, with a legacy built on four generations of dedication and trust since 1939. It all started years ago in the front living room of Jacob Vredevoogd, and over the past eight decades, we have proudly upheld his values of integrity, professionalism, and community in all we do. At our core, our mission is to be a steadfast pillar for our neighbors and team, pursuing progress, growth, and success.
We are proud to provide comprehensive risk management solutions and insurance coverage for your personal and business needs, including auto, home, life, and small business protection. In addition, we offer insurance solutions for a variety of industries, and specialize in protection for real estate investors alike. Reach out to us today and let our legacy of experience safeguard your future, so you too may have the resilience and security of protecting what matters most to you.
2019 Best of Hudsonville Award
Insurance Agencies
A Diverse Suite of Options to Choose From
Our Values Are Straight-Forward
What makes us different?
Integrity
As Jake always said, "we won't lie for you and we won't lie to you".
Professionalism
We pursue excellence in our client service and team's knowledge.
Community
We are focused on efforts to build and improve our local community.
More Partners = More Options
We proudly offer a diverse selection of partners for you to choose from.
Rental Dwelling
Risk Factor
As with any building you rent out, you face risks like fire, lightning, wind and more, but if you have a single-family property like a house or a duplex you're renting out, your coverage needs are different from those who rent out condos or own large apartment buildings.
Solution
Rental dwelling insurance provides the coverage you need for renting out a single-family structure like a house or duplex. This coverage provides protection from losses caused by fire, lightning, wind, hail, and more to the structure of your dwelling, as well as anything permanently affixed to the dwelling like kitchen cabinets, bathtubs, and more. This can also cover other structures on the property such as detached garages, barns, and sheds.
Building Property for Individual Units
Risk Factor
You own a condo or an apartment in a large building that you want to rent out. You may not be responsible for insuring the entire building and the rest of its units, but you are responsible for insuring your own. You'll need the right coverage to protect yourself from financial losses caused by covered damage to your unit.
Solution
Fire, wind, hail, lightning, and more all pose a threat to condos and apartments, which is why having building property coverage for individual units in an apartment or condo building is important. This can cover the costs of repair and replacement to your unit if damage is caused by a covered event.
Apartment / Condo Building Property
Risk Factor
You own an apartment or condo building, and you're renting the units out to families and individuals alike. Your property risks are similar to someone renting out a single unit or a single-family home, but your coverage needs are much different. While you face fire, lightning, wind, and more, you may need higher limits due to the nature of having a building full of units.
Solution
Apartment/condo building property coverage is key to protecting your building and your units. This coverage not only protects the building itself from covered perils, but it also protects other structures you may own on the premise—this can include swimming pools, parking garages, maintenance buildings, fences, and more.
Home-Sharing
Risk Factor
What if you live in your home and you want to rent out a spare room or the in-law suite above your garage? In many cases, a standard homeowners policy does not cover home-sharing. And because you live in your home most of the time, you don't qualify for a landlord policy. The coverage you can get through a rental app platform is also probably inadequate. If someone is hurt or the property is damaged, you could be left with high out-of-pocket costs.
Solution
Home-sharing coverage often provides a combination of property and liability protection for people who share their homes, both as short-term rentals and long-term rentals. However, in most cases, this coverage is only offered for spaces located in primary residences. If you're renting out a secondary home, you may need different coverage.
Personal Property
Risk Factor
As a landlord, you want to make life easier on your tenants to encourage them to stay. That might mean providing a lawnmower or snowblower so they don't have to purchase one or even furnishing the space. What happens if that property gets damaged? Without the right coverage, you could be faced with replacing it on your own.
Solution
It's important to have personal property coverage if you leave any major property behind for your tenants to use. Whether it's property rented with the unit or left to be used in its maintenance, this coverage can protect you financially in the event of covered damage.
Lost Rental Income / Loss of Use
Risk Factor
Fire is a covered peril in your property coverage which means your repairs to your property are covered, but what about your rental income? If your property is uninhabitable while repairs are underway, that could mean months of lost income because you can't rent out your property.
Solution
Lost rental income, also known as loss of use, coverage can help provide financial protection for you if your rental property becomes uninhabitable due to a covered loss through temporary rent reimbursement. Usually, this policy will have a designated time frame during which the reimbursements are provided.
Landlord Liability
Risk Factor
Lawsuits are costly, and just about any accident can set one off. Real or unfounded, the costs of defending yourself in a liability suit and potentially paying damages can be steep and leave you in financial trouble.
Solution
Having comprehensive landlord liability insurance can help protect you in the event you are sued due to an accident that occurred on your rental property. It can help cover the costs of your defense, and in the worst case, possibly help cover damage payout. This coverage may also cover suits related to wrongful eviction, depending on your policy.
Employment Practice Liability Insurance (EPLI)
Risk Factor
On average, it's estimated that three out of five businesses will be sued by their employees. While there is nothing you can do to prevent someone from filing a lawsuit, you can limit the costs of defending a legal claim with proper insurance coverage.
Solution
If you employ anyone—from property managers to maintenance workers to landscapers and more—obtain employment practice liability insurance (EPLI) to protect your business from alleged employment-related acts such as wrongful termination, failure to promote, discrimination, and sexual harassment.
Guaranteed Income
Risk Factor
There's always a risk when renting out your property that tenants will stop paying their rent. The eviction process can be a lengthy and costly one, all the while you're losing out on rental income because your current tenant won't or can't pay.
Solution
Some insurance companies offer coverage for guaranteed income. Similar to loss of rental income insurance, guaranteed income provides rent reimbursements in the event that a tenant stops making their rent payment.
Emergency Coverage
Risk Factor
As a landlord, you have a responsibility to your tenants. If they encounter an emergency, such as being locked out of the property or an urgent maintenance issue, you need to be there to help. If you are your own maintenance person or you're running your rental property on the side, it could mean dropping everything to go help your tenant.
Solution
Emergency coverage can help you if you find yourself in a situation where you have to suddenly go help a tenant. These policies can cover most, if not all, of the costs related to traveling to your property and resolving your tenant's issue.
Ordinance or Law
Risk Factor
Your rental property has been damaged and it just seems like one thing after another when it comes to the repair. You've just learned that not only do you have to fix the property, you also have to upgrade it to meet new building codes that were put into place after your structure was built—and these upgrades could cost more than you anticipated.
Solution
If you're informed during a repair of your property that you need to bring your building up to code, ordinance and law coverage can help cover the associated expenses. Even if your property was to code when it was constructed, building codes can change. Therefore, it's important to consider this coverage in the event your property does get damaged.
Eviction
Risk Factor
If there's one word landlords fear more than others, it's eviction. When a tenant stops paying their rent, you may have no choice but to evict them. It's a long process though, and it's often costly as well. The costs of attorney fees, filing fees, and more can add up fast.
Solution
Eviction insurance can help you cover the costs associated with the eviction process. It can cover things such as attorney fees, court fees, filing fees, and more. Similar to guaranteed income insurance, some policies may also cover the amount of your tenant's missing rent payments.
Vacant Property
Risk Factor
If you own an apartment or condo building, condo, or a single-family home, it's possible that your property could be vacant for an extended period of time—whether that's because of renovations or a transition between tenants. Your normal property insurance may not cover your building while it's vacant, which could leave you in a tricky financial situation if damage were to happen to your property.
Solution
If you know your rental property will be uninhabited for some time, it's important to find out if it will be covered under your existing policies. If not, consider obtaining a vacant property policy to cover you until a tenant moves in.
Natural Disasters
Risk Factor
The forces of nature are strong, and you know what kind of damage they can do to a property. From floods to hurricanes to earthquakes, it's important to have the right coverage in place in case you face a loss due to these perils.
Solution
If your rental property is located in an area prone to natural disasters, be sure to look into specific natural disaster insurance coverage as they often aren't covered by your standard property insurance policy. Some insurance companies offer bundled coverage for natural disasters while others offer individual policies for flood insurance, hurricane insurance, earthquake insurance, and more.
Vandalism
Risk Factor
Damage to your property is usually an accident, but sometimes it's intentional—and not all property insurance policies cover vandalism. That means you could be paying the costs to repair your property out of pocket.
Solution
Check your property insurance policy to see if it covers losses from vandalism. If not, consider investing in vandalism coverage to provide financial protection for yourself and your property.
Tenant Move Back
Risk Factor
Your rental property was damaged, but now it's repaired and ready for your tenants to move back in. This can be a costly process, so it's important to make sure you aren't on the hook for the expenses.
Solution
Tenant move back covers the costs of moving your tenants back into your building who were forced to relocate from your rental property after it was made uninhabitable due to a covered peril. This coverage often works in tandem with your rental property and loss of rental income insurance policies.
Equipment Breakdown
Risk Factor
The equipment required to run a rental property and make it comfortable is often large and expensive, especially if you're running a condo or apartment building. Mechanical appliances like water heaters, boilers, and HVAC systems can run you a pretty penny in repair and replacement if they break down.
Solution
More often than not, rental property insurance doesn't cover the breakdown of large equipment like HVAC systems, boilers, hot water heaters, and more. If that's the case with your policy, consider looking into equipment breakdown coverage. This coverage provides financial protection for losses associated with the damaged equipment and can help cover the costs of repairing or replacing it.
Learn More About This Coverage
Click it. Read it. Cover it.
Click on the hotspots.

Discover your risks.

Explore coverage options.
Not what you're looking for?
Explore more interactive graphics.


Manage Your Policies
Already a client of Vredevoogd-Brummel Insurance Agency? Visit our Service Center to make requests and manage your insurance.
What Our Clients Are Saying
See why you should switch to Vredevoogd-Brummel Insurance Agency.
Read Our Google Reviews
"Local contact. Local voice of authority. High reputation. Richard and his team found the best-fit policies for my family, explained their choices, and provided a flawless customer experience."
Paul C.
"Very satisfied with the in-depth analysis and risk assessment that they provided – they caught several errors in the policy that my old agent had made."
Micah C.
"As a new business owner, I came away feeling important, valuable, enlightened, empowered, and confident my business was covered properly."
John R.
Step 1

Fill out the form.

Step 2

Review your options with us.

Step 3

Get the coverage you need.
Contact Vredevoogd-Brummel Insurance Agency
"*" indicates required fields